I recently attended a digital marketing conference where they showed this very interesting infographic as a slide in their presentation. I found it so interesting that I'd thought I'd write a post and share it. The infographic was created by a web design company called Go-Globe. It summarizes all of the activities that happen online in 60 seconds.
Some of the more interesting stats include:
12,000+ new posts on craigslist
98,000+ tweets
100+ new LinkedIn accounts
6,600 Flicr pictures uploaded
695,000+ Facebook status updates
695,556 Google search queries
168 million emails sent
60+ new blogs created
1,500 blog posts
70 domains registered
13,000 iPhone apps downloaded
See entire infographic below: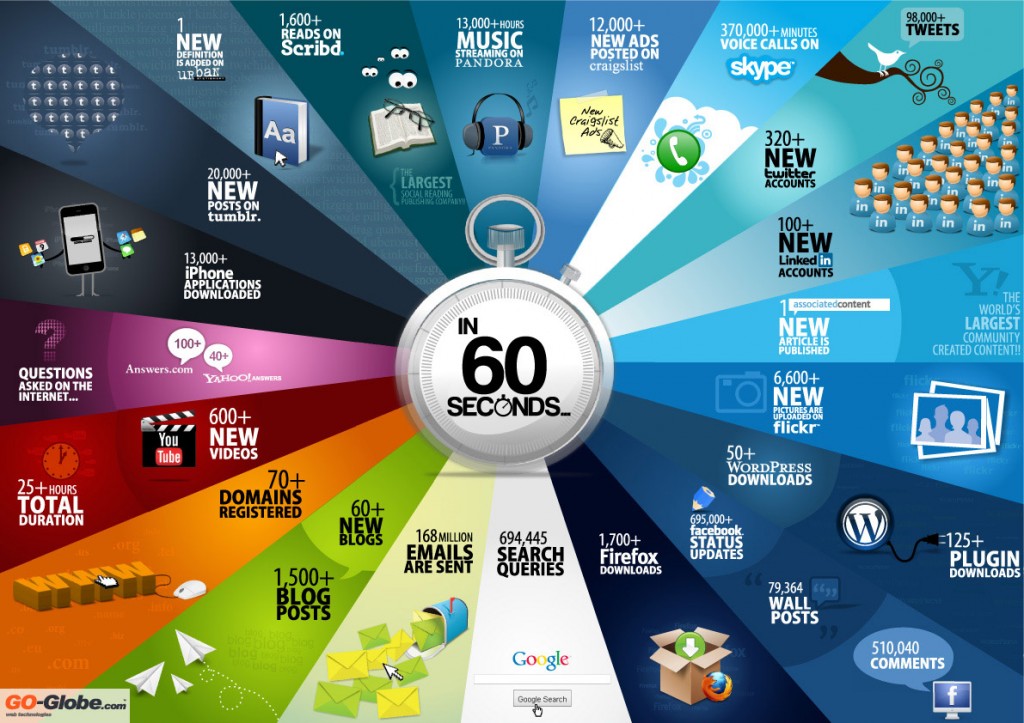 We're living in an unique time where everyone is empowered to create, interact, and share with the entire world. I'm amazed by just how many blogs and domains hit the website every minute. There is no shortage of content and people developing that content, increasingly in the mobile environment.
I'm also interested in the stat of how many people are posting on Facebook (695,000+) compared to how many people are searching Google (694,445+). Google used to be the center of everything someone did online. Even if I knew the domain, in some cases by habit, I'd simple search it in Google's browser plugin. It just seemed easier. Now it seems that more people are "living" in platforms such as Facebook and connecting with others through it. If you search inside of Facebook it automatically populates with web results powered by Microsoft's Bing. Clever on Bing's part to drive up their usage.
As a digital marketer, three thoughts come to mind.
People want to share. We're living in a modern information age in which people are sharing and communicating quickly and frequently. It's easier than ever to get your message across multiple devices and across platforms, and it spreads like wildfire. People want desperately to have their voice heard by their peers and uniquely demonstrate that they are innovators.
People connect with brands they like. Companies are able to leverage this movement by putting their products and services in front of their customers. Their customers are willing to share these messages and develop a "relationship" with companies. Companies in the New Economy are becoming personalized and connected. I don't just buy an MP3 player, I like the Company Page, I review the product, I share the features, and I connect with customer support.
Your message has a lot of competition.  With all this content being generated, it's easy to see that people's attention span has some competition. Your message can't just be louder than everything else, it needs to be more targeted and personalized. It's expected that you know something about your customers. Use that to give them exactly what they need when they need it. Leverage your CRM and marketing automation tools to message them and measure those conversions.
Another infographic I found by Go-Globe shows some more interesting stats on the hardware and product side. Did you know that every minute 81 iPads are sold, 11 Xboxes are sold, or 1,100 acres of land are farmed in Farmville? Interesting…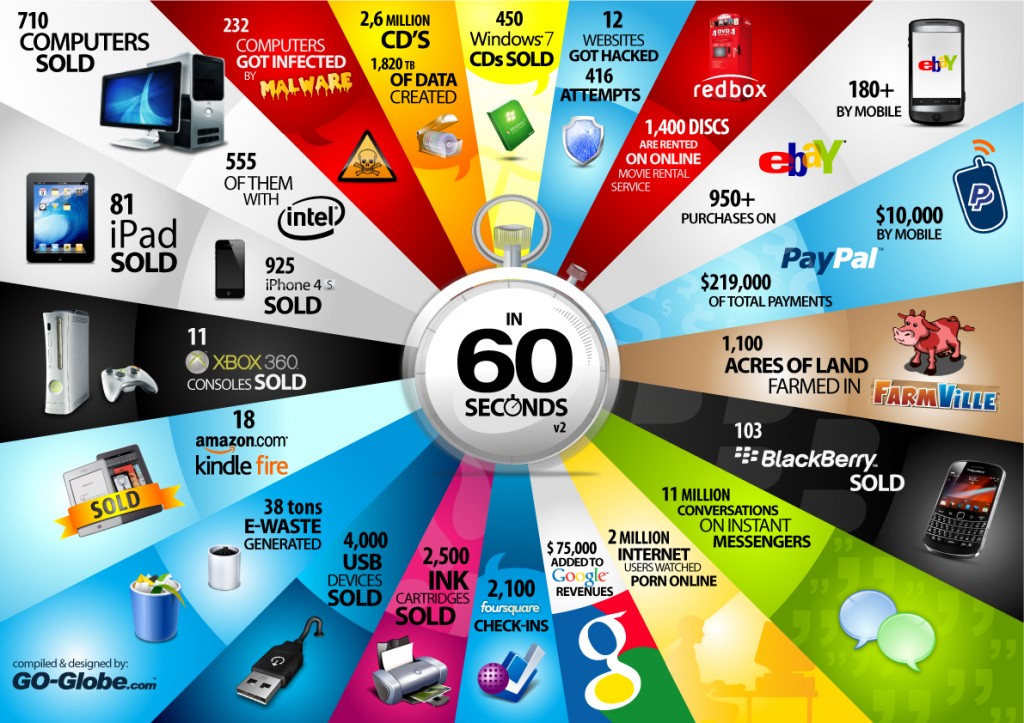 Related posts: